17.September.2013
TopWare Interactive releases Iron Sky: Invasion on Android
Spacebattles can now be fought on the road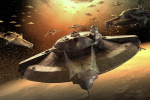 TopWare Interactive, alongside Reality Pump Studios announced today the release of its space combat simulator "Iron Sky: Invasion" for mobile platforms with the Android system, available for purchase in the Google Play Store. In addition to the full game, the Free version will give players a first look at the space dogfighting world of "Iron Sky: Invasion".

The Evil that Survived in the Shadows

Following the plotline of the film "Iron Sky", "Iron Sky: Invasion" tells the story of the desperate battle between the vile Nazis from the dark side of the moon and the valiant warriors of earth. Stuck in the middle of this intergalactic conflict is our hero, rallying earth's pilots in a heroic last stand against the evil Admiral Kreutz and his moon-Nazis. "Iron Sky: Invasion" offers breathtaking dogfighting action, allowing players to choose their play style, taking to the skies as a lone wolf behind enemy lines, or falling into formation with the biggest space armada earth has to offer. The fighting is frantic and fierce, leaving no time for breathers, and no room for error until the final blow is struck against the evil empire.

Thrilling Action in the Depths of Space

"Iron Sky: Invasion" allows the player to maintain absolute control of their ships by utilizing not only the virtual joystick, but the movement control features of their mobile devices as well. Complete customization of the interface and a thrilling soundtrack complete this unique gaming experience. With over 15 Missions, original space craft from the film and a strategic energy management and economic system, "Iron Sky: Invasion" is sure to please dogfight aficionados and space sim junkies alike.

In addition to today's release, TopWare has released Iron Sky: Invasion in the past year on multiple platforms such as PC, Mac, consoles and iOS based mobile systems.