22.November .2012
Press Release: Iron Sky Invasion lands Reichsflugscheiben in stores across Europe
+++ In space, only the Nazis should scream +++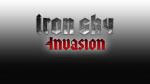 Karlsruhe, Germany November 22nd - TopWare Interactive announced today the official launch of "Iron Sky: Invasion", the unique space combat simulator from Reality Pump. 

 
"Iron Sky: Invasion" is the official video game tie-in for the movie "Iron Sky" from Blind Spot Pictures. The game combines the dark humor of the movie with the technical brilliance from Reality Pump, the developing studio known for the award-winning "Two Worlds" and "EarthXX"series.

Gripping action awaits all pilots brave enough to strap into one of the many crafts pulled directly from the film, engaging the Nazi fleet in an epic battle for earth. It will be a tough battle, but either you bomb the Nazi's back to the moon, or you'll face their tyrannical rule back on earth!

Aside from the regular version of the game, the "Götterdämmerung" special edition will launch in several countries across Europe as well, containing the game "Iron Sky: Invasion", the movie "Iron Sky", and multiple bonus materials like an art book and the movie soundtrack.

A version for the latest generation of consoles will follow in December.

The launch trailer and more you will find on www.ironskyinvasion.com