18. December .2012
Press Release: Iron Sky: Invasion Demo released
+++ Trial and complete game now on Steam +++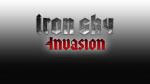 Karlsruhe, Germany December 18th 2012 - TopWare Interactive is excited to announce the release of a free demo for the space combat simulator "Iron Sky Invasion". The game was developed alongside the movie Iron Sky, and is now available on Steam across Europe. The Demo shows thetutorial plus the first 30 minutes of gameplay.
The game runs parallel to the film, with the player assuming the role of a crack space pilot battling against the evil Nazi horde from the dark side of the moon. Led by the diabolical Admiral Willhelm Kreutz, the player must win epic space battles and down and dirty dogfights as the Nazis attempt to invade earth. Original actors from the movie in all new scenes help to create a seamless blend between the game and the movie.
In addition to the release of the demo, TopWare is also announcing the release of a new patch fixing some small problems with the game. PC users will only need to start the game, while Mac users can download the update on the games homepage.
The Console version of the game will be released in January 2013.
Find more information about the game and the free trial version here: www.ironskyinvasion.com