26.October.2012
TopWare declines Halloween Press Mailing
Reality PUMPkins missing on new Iron Sky Invasion Homepage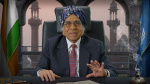 Typically, during this time of year, TopWare would send out the traditional Halloween Press Release. This year, however, the German publisher will be denying both Trick and Treat. Instead, while others vainly search for a quick scare in a dark graveyard, TopWare will be defending our home planet, a truly terrifying endeavor.
No headless horsemen, burning pumpkins or mysterious ghosts will decorate the new homepage of the upcoming space combat simulation
"Iron Sky Invasion"
. Spacecraft, rather than spooky spirits, is this year's topic.
To celebrate the day and honor the craft of ghost-storytelling, TopWare opens the cover to the
"Iron Sky Invasion"
storybook. Starting today, the publisher will unmask information about each character and the role they play in either attacking or defending Earth. First to be revealed is Mr. Sharma, the Indian representative who may have a few skeletons in his closet.
Find the newest propaganda on
Facebook
.