12.October.2012
Iron Sky Invasion Cut Scenes to Feature Actors From Hit Film
Madam President as guest of TopWare Interactive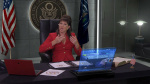 "Iron Sky: Invasion",
the forthcoming space combat sim from TopWare Interactive AG and Reality Pump Games (based on the hit motion picture
"Iron Sky"
) has just wrapped the filming for the game's live action cut scenes with the cast from the original movie. Many of the stars of "
Iron Sky"
the film, such as Stephanie Paul (who performed as the US President) will reprise their roles for the game.  Other actors who will appear in the game include Irshad Panjatan as the Indian Representative and Julia Dietze as Renate Richter.
"Iron Sky"
the film gave moviegoers a glimpse of a world in the near future which is being invaded by Nazis who escaped to the dark side of the Moon in 1945 and have been planning their revenge ever since. "Iron Sky: Invasion" is set during the events of the film, as war inevitably breaks out between the forces of Earth and the Nazi fleet, and dog fights between countless space fighters engulf the skies above our planet.
Find always the latest information on
Facebook
.